We are halfway through the year and now with the warmer weather upon us we know you must be digging deep in your clothes cave for all that summer gear. But, here's the dilemma: your wardrobe is jam-packed with all of those excessive winter clothes you simply don't need at this time of the year. Frustrated, you frantically pull at everything and a wave of your clothes comes flooding out.
Stop!
It's so easy to become a clothes hoarder, holding onto something you really like but probably doesn't fit you any more or something you've only worn it once and are likely to not wear again. Let's not even mention that jumper you got from your mum last Christmas that you want to hide away at the back of your wardrobe. Don't fret; we are here to help you get out of this nightmare with some easy-peasy wardrobe decluttering tips that'll prove ultimate time, space and life savers.
Rule #1: Take Everything Out

And we mean everything! Starting from the very bottom, it's best to take everything out of your wardrobe and start afresh. Lay out all your clothing on your bed (not the bedroom floor in a heap, just in case you want to keep any of it!). Now turn and look in your wardrobe, take a deep breath and enjoy the sight of an empty wardrobe. Would you take a look at all that space? Absolutely phenomenal!
Rule #2: Fill a Bag Challenge
Time for some decluttering fun – how quickly can you fill a black bag for donation? Extra points for the number of black bags, too! Decluttering doesn't have to be a chore, it can be fun if you challenge yourself and turn it into a game. Filling a bag is a great way to declutter as you can go through all your clothes, try them on and if they simply don't fit or you don't like/wear it anymore (but it's still in good shape) then why not put it in the bag and donate it to your local charity.
Rule #3: Separate your Clothes into Piles
Creating clothing piles can make it easier when you are ready to put your clothes back into your wardrobe. You can have a pile for frequently worn, rarely worn, occasion and formal clothes (to name a few). This makes it easy to organise your wardrobe into sections; for example, have the clothes you wear more frequently at the front or top of your wardrobe and the clothes you wear less frequently (such as those winter jumpers) you can store nearer the back or at the bottom of your wardrobe. Having smaller clothing piles can make the organisation process that little bit easier.
Rule #4: Have a holiday box
Unless you are always jetting off to follow the sun, a holiday box would be one of the best decluttering and organising option to have. Having a box solely dedicated to store all your holiday essentials can be a huge space-saver in your wardrobe. Fill the box with anything you would take on holiday; your swimsuits, kimonos, shorts and even those goggles you think you need but never use. Out of sight, out of mind! Once they're in the box you can store it at the bottom of your wardrobe – or elsewhere in your bedroom or loft – giving you that added space you need to become a decluttering pro.
Rule #5: Keep everything in sight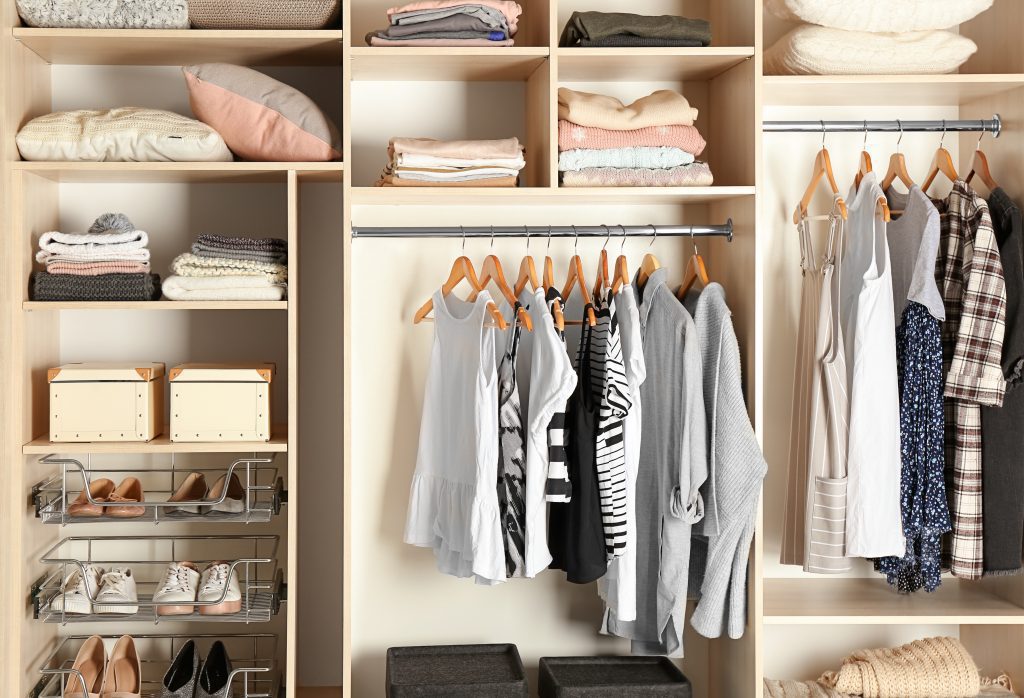 You've taken everything out of your wardrobe, sorted through them, filled 5 black bags full of clothes you no longer need, and you have your holiday box with all the goodies for your adventure in summer. It's now time to put all the clothes you are going to keep back into your wardrobe. Golden rule number 5; keep everything in sight. Make sure all your clothes remain visible so you can see where everything is and you'll stop yourself from falling victim to that same nightmare you had at the start. Not only does keeping all your clothing visible make it easy for you when looking for something to wear, but when you step back and look at what you have accomplished you will notice how neatly organised your wardrobe is, and how easily the door can now close.
There are so many more areas in your house where you can declutter and you can make it fun! You can even get your children involved and turn it into a game of who can declutter the most with a special prize at the end. Whatever way you decide to declutter you can surely make the changes to have a summer you will always remember!