We've all been there: organising your belongings and having a good clear out might be just what you need to free up space in your home and mind, but it can also reveal a build-up of undetected dirt and grime.
With Spring around the corner, crack open a window and let that still-actually-chilly fresh air in while we give you a run down of 5 items that you may already have around your home to make your Spring Clean a breeze!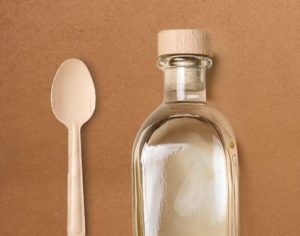 1. Vinegar
No Spring Clean would be complete without this potent natural cleaner. Malt or white vinegar, you don't need to worry about releasing harmful chemicals into the environment or keeping it out of reach of children. Not to mention it'll save you money over various bottles of bleach, antibacterial spray and other cleaning products! (Psst – while malt vinegar is cheaper, use white vinegar if you're cleaning fabrics!)
Here are some of our favourite uses for vinegar as a cleaner:
Create an all-purpose surface cleaner by filling a spray bottle with vinegar and adding citrus peels and herbs of your choice. Allow this concoction to sit for two weeks, strain it, and enjoy your lovely scented vinegar infusion made out of entirely natural resources!

Keep soap scum, limescale and mildew in your washing machine at bay. Every few weeks, pour a pint of white vinegar straight into your washing machine and put it on an empty full cycle. It'll get to work cutting through the grime, all the while disinfecting your appliance.




Wipe down your stainless steel surfaces and appliances with oil on a cloth to begin lifting stains, then follow it with a cloth dampened with vinegar to remove any residue. Watch your surfaces sparkle!
2. Oils
Used in cooking, beauty regimes and now for cleaning, oils are multipurpose superheroes! While they may not contain antibacterial properties, they're amazing at lifting stubborn grime for that preliminary clean – minimum elbow grease required.
For dirty bathroom surfaces, oil will get into those hard to reach nooks and crannies. Add oil to a spray bottle and spritz over surfaces, finishing with a round of soapy water – simple!




Get your greasy cooker-hood gleaming by buffing the surface with a cloth and coconut oil. All the hard work is done for you, just simply finish off with your all purpose vinegar cleaner and you're ready to go.
3. Lemons
When life gives you lemons, up your cleaning game! A natural, gentle disinfectant that fits in the palm of your hand, the humble lemon is an unsung ambassador for safe but effective cleaning throughout your home.
Dried-on food spots in your microwave? Fill a microwavable bowl with 400ml of water and half a lemon and set the microwave for 3 minutes on full power. After the 3 minutes are up, leave the door closed for a further 5 minutes and let that lemony steam get to work. All you'll need to do then is give it a good wipe down, minimum effort required.




For hard-water stains in your shower, cut a lemon in half, dip it in coarse salt and get to work scrubbing at those stains. The acid in the lemon dissolves the buildup of limescale and other grime while the salt buffs it off.

Clean and deodorise your smelly plastic containers by rubbing a lemon on the inside, or soaking it in a bit of lemon juice. It really is as easy as that!
4. Essential oils
Diffusers, move aside! Essential oils are in a multipurpose league of their own. Not only do they smell amazing, but they're natural, potent and so versatile.
Add a few drops of your favourite essential oil scent to your washing machine load to achieve fresh smelling laundry without the harmful chemicals.




Basil is a natural antiseptic with anti-fungal properties. Dilute a few drops of basil oil with water and use it liberally on grimy tiles and grout, to spruce up your bathroom or kitchen.




Create a customisable air freshener using only wa

ter, baking soda, and your essential oil of choice. Add water, 1 teaspoon of baking soda, and 15-20 drops of essential oil to a spray bottle and you're ready to go! Natural never smelt so good.
5. Tools of the trade
All the points we've covered so far have focused on the items that do the cleaning, but you'd be surprised what handy cleaning utensils you'll find in your home that you may not have thought of!
Here are some natural alternatives and throwaway items we love to use for our spring clean: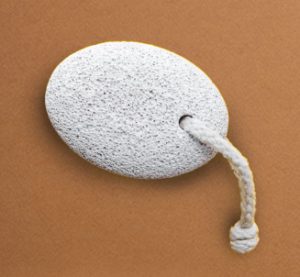 Cut up old, unwanted t-shirts to make the perfect cleaning rags. You'd be surprised how many rags you can get out of one t-shirt and best of all, you've not spent a penny and found a use for an item that otherwise would have been thrown away. Everybody wins!

A tried and tested oldie but goodie, think again before throwing out your newspapers because they'll make small work of cleaning your windows and mirrors. Introduce your old newspapers to your new best mate vinegar for a match made in sparkling-glass heaven!

Put that old pumice stone you have lying around your bathroom to good use and scrub off stains in your tub and toilet – no harsh solvents necessary. Don't forget to add a few drops of essential oil to your toilet as well!



Hopefully this has inspired you to add a natural spin on your Spring Clean and save money and shop runs in the process! If you've already tried some of these hacks, let us know!
Struggling to get organised? Check out our 30 Day Room Declutter Challenge – and no matter the grime you uncover, your new Spring Cleaning kit will have your back!