It's that time again: Pack away those thick knit jumpers and weighty winter coats and make way for your new summer attire with Beyond Storage.
We've compiled a list of 5 winter clothing storage hacks to help you save space whilst ensuring your clothes remain ready to wear for those not-so-sunny summer days. So hang around – you'll want to hear this! 
#1 Say yes (or no) to the dress
When it comes to storing anything in life, you should always start by ditching the undesirable. If you're unlikely to wear something again, why go through the hassle of washing, drying and packing it away? Free up your time and save some space by waving goodbye to your winter wardrobe no-nos and hello to space for your summer attire.
Unwanted clothing doesn't have to be destined for landfill – donate to your local charity shop or clothes bank, or look to resell your items at car boots or on platforms such as Vinted, eBay or Depop. If you're feeling creative, why not give upcycling a go? The possibilities are endless. 
Top tip: If you're in need of summer clothes, the same goes – shopping for preloved items will help the plant and your wallet! 
#2 Clean your act up!
It goes without saying: if you want your winter wardrobe to remain like new, you need to look after it. Start by cleaning (be it with a washing machine, hand wash or dry clean) your clothes and ensuring they are bone dry before packing away. This will not only prevent any nasty odours or unwanted infestations from lingering, but also means your clothes are left stain-free and ready to wear on those inevitably chilly British days ahead.  
Once you're ready to pack your fresh winter warmers away, grab yourself some lavender sachets to complete the process. If you read our storage hacks article, you would know that lavender not only smells great, it serves a purpose, too. Storing clothing with lavender sachets will help deter moths whilst keeping your clothes smelling fragrant and fresh. It's a win-win! 
Top tip: Protect your winter wardrobe from head to toe by ensuring that your footwear is dirt-free too. It will help combat odours and prevent permanent damage.
#3 Hang in there 
To fold or not to fold? That is the question. Unless you want to spend hours re-ironing your winter garments, stick to hanging any crease prone clothing. When hanging clothes, it's wise to invest in garment bags to prevent dust and dirt from sticking to your freshly washed attire. It's also worth considering tiered layered hangers to save space and keep your wardrobe organised. Equally, if you own any delicate or knit items that are likely to stretch or lose shape when hung for long periods, stick to folding. 
For bulkier items, make use of vacuum storage bags and lidded storage boxes to maximise space and minimise the risk of unwanted pests. But be warned: any feather or down-filled winter wear could face damage if vacuum packed, so best to opt for storage boxes or hanging for these items. Regardless of how you choose to store your clothes, always ensure buttons and zips are fastened to avoid snags and help your garments hold their shape. 
Top tip: Invest in some acid-free tissue paper to protect those extra special, vintage or delicate garments when folding. 
#4 Location, location, location
Whilst how you store your clothes is important, where you store them is make or break. Avoid exposing your beloved garments to unpredictable and damp conditions – no unheated basements, neglected garages or barely sheltered sheds. 
Treat your clothes as they treat you: keep them dry and safely covered. Heat and moisture can cause damage to your winter garments and will welcome mould like an old best friend. Stick to storing your clothes within your temperature-controlled house, or better yet, opt for a place that's cool, dark and moisture-free, like the Beyond Storage containers. All of our self-storage units are fully insulated and come with their very own dehumidifier as standard, and with full CCTV and secure fingerprint access, you can rest assured that your garments will be home and dry this winter. 
Get a free no-obligation quote via our online estimator now and discover why self-storage is better with Beyond. 
Top tip: If you are storing footwear in cooler, damper conditions, use charcoal to control excess moisture and unpleasant odours. 
#5 Kick old habits to the curb
How do you store your unused footwear? In a pile in the under-stairs cupboard? Stuffed in an old plastic storage container? Contrary to popular belief, it's very rare to find shoes that are as tough as old boots. If you want to ensure your winter wardrobe is wearable again and again from head to toe, you need to take a step back and think about your footwear storage.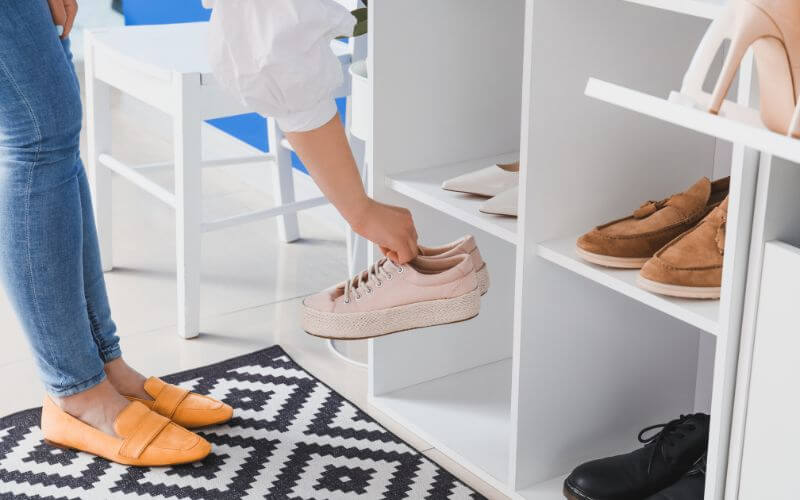 Whether you're looking to save space or simply keep your shoes in tip-top condition, these tips will help you give bad storage habits the boot: 
Use shoe horns or newspaper to help your footwear retain its shape

Ensure shoes are cleaned thoroughly before storing 

Explore shoe trees, over door shoe organisers, shoe racks, cabinets and shoe boxes to find a solution that works for your space

Add silica packets to light-weight shoes

Store in a cool, dark place where possible
Hungry for more storage tips and tricks? Check out our blog for the latest hacks, news & more!