Situated on a red sandstone cliff above the River Wye and on the northern border of the Forest of Dean, Ross-on-Wye is a dream spot for staycation-ers all across the country. It's known as the ideal holiday centre to explore the Wye Valley for a reason, after all! With Herefordshire, Gloucestershire and even Monmouthshire within its reach, Ross-on-Wye is perfectly situated for all kinds of adventurers this summer. 
But why come to Wye, I hear you ask? Well, if you need more than beautiful countryside and an ideal location to tide you over, we've got 5 fun facts to convince you that Ross-on-Wye is the coolest summer destination.
Ross-on-Wye's mascots aren't too cuddly, but they certainly are cute
Hedgehogs have a long history of representing Ross-on-Wye – for about 1500 years! All the way back to when the Celts invaded Ross on Wye, they called the area 'Ergyng' which, apparently, means 'land of the Hedgehog.' These days, you can spy a load of hedgehogs around the town in the form of crests and logos.

Rock on rector! This glam rock star owned an old rectory near Ross-on-Wye
The lead singer of T-Rex, Marc Bolan, was a pioneer of the glam rock movement in the 70s. Pretty groovy, man. Marc never actually lived in the rectory… But he owned it! And that's enough of a claim to fame for us.
We're all goin' on a – summer holiday – thanks to Ross-on-WyeeEeEe
Believe it or not, Ross-on-Wye was the original summer holiday destination. In 1745, the rector Dr John Egerton (wonder if he would have liked glam rock…) began taking his mates on boat trips down the valley from his home in Ross. It began the bustling British tourist industry as plenty of people rushed to the Wye Valley for its river scenery, breathtaking landscapes, and formidable castles. 

A soap opera star is buried in the local churchyard… (doof doof doof doof doof DOOF DOOF DOOF DOOF)
Best known for her role as Meg Mortimer in 'Crossroads', Noele Gordon was an actress and television presenter. And if you don't know who she is, maybe ask your grandparents, because she won the TV Times award for most popular television actress eight times. But maybe that was all a dream… Just kidding. That would be a terrible way to end a show, eh?
With such a colourful history, you're no doubt packing your bags and ready to head off and see what Ross-on-Wye is all about. Whilst you're on your way, here are the top 10 things to do in Ross-on-Wye this summer.
What's prettier than watching a butterfly go about its business? Watching hundreds of butterflies go about their business, of course! At the Wye Valley butterfly zoo, you can watch the entire life-cycle of a butterfly (not in real-time, of course…) and observe some of the most beautiful species of butterflies that the world has to offer. 
There's no better way to tour around the river Wye than with Kingfisher River Cruises! Take a trip down the river with an informative guide and learn all about the local area's rich history from the comfort of a cruiser.
A trip to Beechenhurst is more than your average woodland walk. With 4 exciting family-friendly walks to undertake, you'll be spoiled for choice on this adventurous day out. From Gruffalo trails to avant-garde sculpture paths, there's something to keep everyone entertained as you stroll through these picturesque woods.
Not for the faint of heart, Go Ape is a must for thrill-seekers of all ages. Based in the Forest of Dean, you'll be leaping around the treetops and seeing magnificent views. There's even a section for little monkies that aren't quite ready to tackle the tallest trees quite yet. Take a look around the forest that inspired Tolkein and feel the magic for yourself.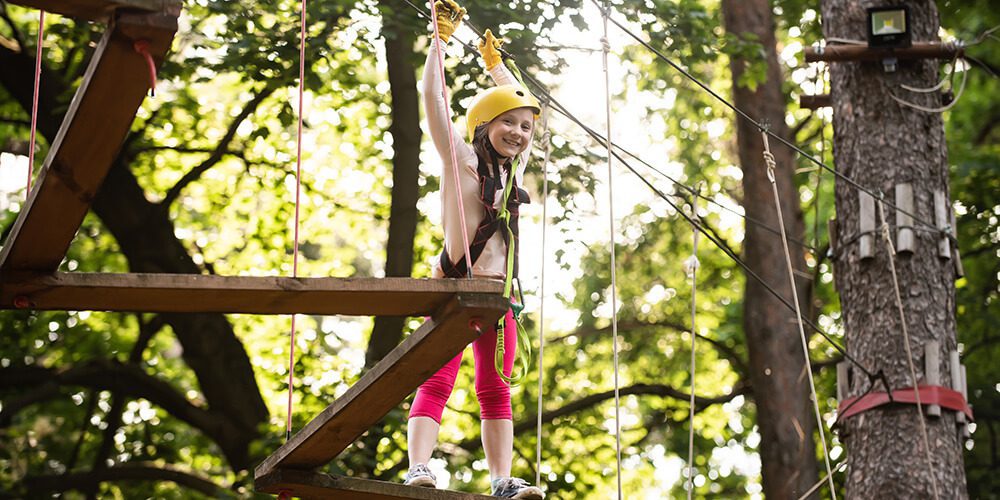 What better way to discover the town than to uncover a mystery? The mystery treasure trail is easily accessible as a downloadable PDF, so all you need is your phone to get on the case and start cracking those clues! The course takes about 2 hours to complete, so plenty of time to do some sightseeing and tucker out any intrepid detectives. 
Make a splash and see the river Wye up close with the Wydean Canoe and Adventure Centre. It's the most unique way to check out the stunning scenery by floating along the river – not to mention the most fun! The centre offers way more than just canoeing, though. From raft building to archery, you'll be able to have every adventure imaginable.
What's a staycation without a trip to a pottery studio? For those days when you don't quite feel like thrill-seeking, the Yat Pottery studio is a perfectly chilled out vibe for pottery enthusiasts of all ages. From ceramics painting to tackling the pottery wheel, all skill levels are welcomed in this studio. They might even let you re-create that scene from Ghost, too!

War! What is it good for? Having loads of fun! Wait… Maybe you won't be fighting a real war at BattleSports Glos, but with their state-of-the-art laser rifles and tonnes of war paint, you'll certainly feel like you are! With the choice of indoor or outdoor combat, you'll be waging a laser war come rain or shine.
Escape reality with this enchanting castle located at the foot of the Malvern Hills. With a deer park, holiday cottages, corporate and wedding spaces on offer, Eastnor Castle is a must-visit for anyone local to Herefordshire. This dog-friendly site is the perfect destination for adventure lovers, nature enthusiasts and families alike, with plenty on offer to keep everyone amused. From soaking up history with a tour of the castle and grounds to getting active with the tree trail and  knights maze, head to their website to view what's on offer and plan your day out!
A must for all history fanatics, the In The Footsteps tour takes you around Ross-on-Wye with an expert tour guide. With your guide, you'll delve deep into the rich history of Ross and tour all the local battlefields. These heritage tours aren't to be missed if you're after a deeper historical knowledge of the area. 
There are plenty of great things to get stuck into in Ross-on-Wye, but we think that Beyond Storage is the best place in town. (But maybe we're a little biased…) Your home could be overflowing. Perhaps you or a loved one is moving. Maybe you need a place away from home to work! Our creative storage solutions are perfect for all our out of the box needs. Contact us today to find out more.