Christmas is all about family. So, what better way to spend it than to decorate your home together with these super simple Christmas crafts. From handmade ornaments to DIY stockings, these mini festive projects are a great way to bring the whole family together and add a personal touch to your home – they make beautiful keepsake gifts for loved ones, too!
Here are our top 5 Christmas DIY home decoration ideas to inspire you this Christmas.
Gingerbread Decorations
Nothing says Christmas quite like the lightly spiced smell of gingerbread filling your home. These simple decorations are deliciously sweet and fully customisable, with the option to choose any shape, icing colours and design. The beauty of these delectable decorations is they are completely edible! So if you want to simply snap some pics and enjoy, then go ahead! 
If you can resist eating your stunning new Christmas decorations, they should last for around 2 weeks on your tree – but sadly, we wouldn't recommend eating them after.

DIY Stockings
Oh, the joy of waking up on Christmas morning to find a stocking stuffed with goodies from old St. Nick. Make the moment even more magical by allowing your children to design and make their very own stockings. All you need is some scrap fabric, scissors, adhesive and a bit of imagination! 

Snow Globes
Snow globes are a creative way to capture a festive scene that can be kept and remembered forever. This simple DIY is affordable and fun. All you need is an empty jar, water, glitter, glue and your very own figurines to add a personal touch to your globe. And they aren't just for kids… Swapping the figurines for a more sophisticated and sustainable choice – such as pine cones – is a great way to add a cosy Christmas feel to your home if you're after a more subtle approach. 

Baubles & Christmas Tree Decorations
The Christmas tree takes pride of place during the festive season, so it's crucial it looks the part. Make it your own and get the whole family involved by DIYing your own decorations! Feeling creative? Why not craft some bespoke paper baubles? (Stars work great for this!) Want something a bit more durable? Head to your local craft shop where you'll find empty baubles ready to be customised.
If you're looking for a more sustainable alternative, why not pick up some pine cones whilst enjoying a brisk winter walk? Or go ahead and try some of the below:
Dried orange 'baubles' and garlands
Crochet decorations
Customise ceramic or cardboard baubles
DIY wooden decorations

Christmas Wreaths
They can sparkle, jingle or just be plain pretty – a handmade Christmas wreath can add a jolly touch to your home this festive season. All you need is a coat hanger or paper plate to use as the base, and then you are free to add whatever you want to make your very own festive wreath. Upcycling pre-loved Christmas decorations that no longer make the cut for your tree is a great way to save money on materials and be more sustainable! Or if you're feeling extra green, why not head to your local park or garden to collect plants, twigs and pine cones for a more traditional look?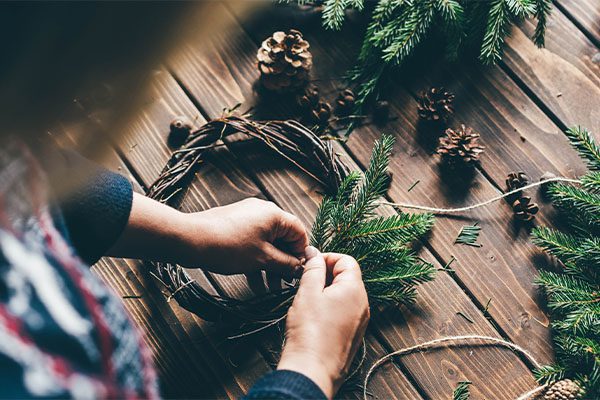 When all is said and done, keep your precious new decorations safe and ready for next festive season with Beyond. Get a free quote now to discover secure self-storage to keep even the most delicate of items protected.