While there's no objectively right or wrong way to organise your self-storage unit, there are certainly a few ways to make your life easier. Granted – some people prefer carefully curated chaos over colour coordinated, meticulously planned spaces. But someone is going to have a headache when they try and get their stuff… and it won't be the latter!
We've all been a little guilty of housing mess. Piles of cardboard boxes… Clothes racks full to bursting… A random tangle of wires that you swear you've never seen before in your life… Your self-storage unit can get unruly quickly. 
If your container is starting to look chaotic, or if you're looking to nip mess in the bud, we've created a guide for organising your self-storage unit:

1. Plastic or cardboard?
First things first: are we storing our things in plastic or cardboard? There are pros and cons to both, so you'll want to weigh them up before spending your hard-earned cash. 
There are a few obvious pros for plastic containers: They're sturdier, making it safer to store your nan's priceless china set in there. They're also usually transparent, which reduces the rummaging you have to do to find something. However, plastic containers tend to be pricier and also allow for less ventilation.
Then there are the pros for the ol' faithful cardboard box. They're generally much cheaper and can be bought in bulk. They're also lighter, so you're less likely to do your back in on moving day (remember, lift with your knees!). Cardboard also allows for more ventilation for fabrics and other delicates, which is important if your belongings are staying put for a long time.
2. Create an inventory 
Before any battle, you need a plan of attack. With the number of things you've got going into self-storage, there's no way you'll be able to remember everything without an inventory. No one's memory is that good!
If you're storing large items like a sofa, there's a good chance you'll remember that. But your old favourite jumper that's gone a bit bobbly and has been at the bottom of your wardrobe for three winters now? That's probably getting forgotten about as soon as the doors to your storage container close. 
To help you keep your head on straight, you're going to want to create a list of every item you're storing. It can be as detailed as you like, on paper or digital. List out every item and assign it a category (like 'clothing', 'toys', 'documents'… You get the idea.)  That way, you'll have a comprehensive list of all the things you're temporarily parting with.
3. Pack your boxes with care
There's nothing messier (or more annoying) than shattered glass! Wrap all your fragile items up with bubble wrap to ensure nothing gets broken in transit. If you're storing furniture, it's a good idea to lay a sheet or mattress protector over it too. That way, everything will be as good as new when you come to collect.
(Our state-of-the-art self-storage units come equipped with a dehumidifier and insulation to ensure your belongings are kept in tip-top condition, but it doesn't hurt to be extra careful!)
4. Label everything
Having an inventory of all your items in self-storage is well and good, but if you can't actually find anything when it's in front of you, then we've got a problem. Be sure to stick a label on your boxes before they go into your self-storage unit. 
Trying to organise your self-storage unit will be a heck of a lot easier when you know what's in your boxes. Otherwise, you'll be tearing everything open to check, and you'll be surrounded by thousands of paperbacks, loose clothes, last Christmas' toys and who knows what else. 
Make sure you label on every side of your box. That way, no matter where it ends up in your self-storage unit, you'll be able to know what's in there.

5. Come in with a plan
Inventory written. Boxes packed and labelled. You're ready to head to one of Beyond Storage's beautiful sites. But don't hop in the car just yet! You've got to come in with a plan. Be sure to map out how you want to store things in your unit. 
A great way to organise your space is to keep boxes into 'room' sections. Everything that belongs in your bedroom stays in one space. All your kitchen stuff stays in another. All the things that belong in your office are in another dedicated section. Make sure to label each section to help out your future self.
6. Store essentials at the front
If there's something you need to access on the regular, ensure you keep it close to the front of your unit. That way, you'll be able to grab and go with ease. 
Be sure to mark those essential boxes with a note! You don't want to lose them in the back of your container.
7. Stack heavy items on the bottom
Lugging boxes around is pretty taxing (if you ever need to put your feet up and stick the kettle on, our Beyond Longues are there for you!). Things get forgotten, and your heaviest box, full of weighty hardcover books, might accidentally end up on top of your box of wine glasses.
So, this is your official reminder: put your heaviest boxes on the bottom of the pile.
8. Keep a clear path
A mistake made by rookie self-storers everywhere – overloading your unit to the absolute brim and forgetting to leave a path so you can navigate through your boxes. Lucky for you, you're doing your research, so you won't make this mistake! 
Save yourself the pain of clambering over mountains of boxes to try and get that one precious box that's tucked in the back. Keep a clear path through your items so you can access any box with ease.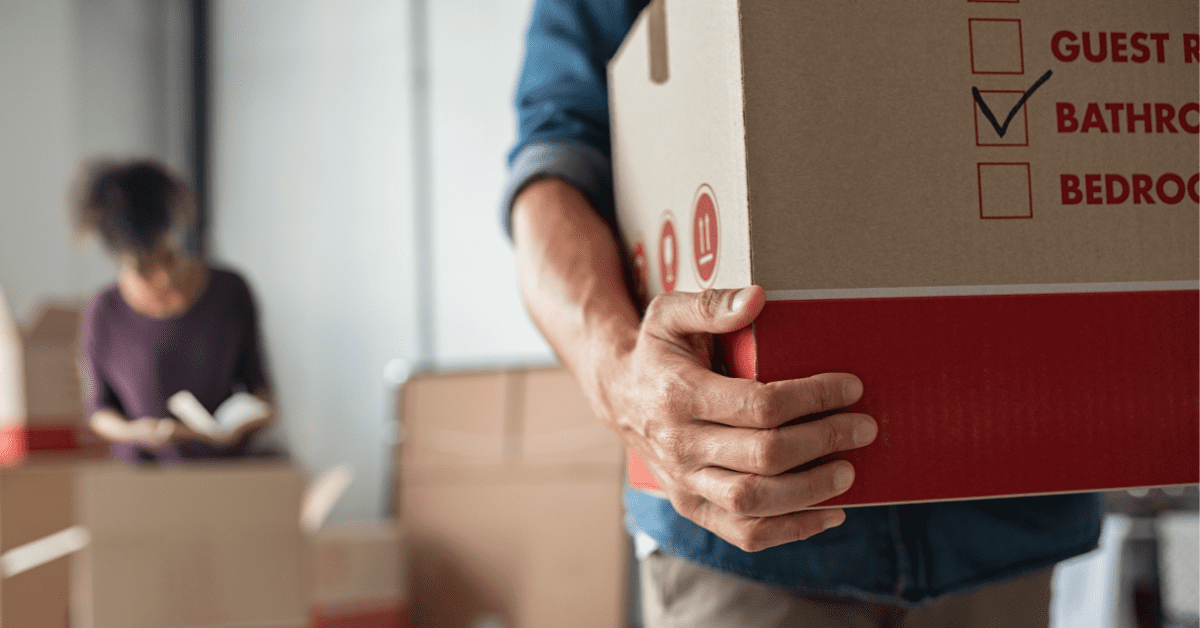 Now you're more than ready to start listing, packing and moving your belongings into one of our premium quality self-storage units. From being able to drive straight up to your container, to 24/7 CCTV surveillance for ultimate reassurance, Beyond Storage is here to make sure you have an exceptional storage experience. Get an instant quote with our online estimator here!