September is finally upon us, which means one thing: back-to-school season has arrived. Whether you're a fresh-faced first-year student wanting to make your dorm room your own, a returning student looking for storage solutions to maximise your space, or the parent of a soon-to-be sixth form graduate looking for ways to help prepare your not-so-little one for their first year living alone, you've come to the right place.  
We've put together a list of 8 clever space-saving student storage hacks to help maximise your space and minimise mess. 
Psst… Not a student? These hacks work great for any small space!
#1 Stack it up 
One of the best ways to save space is by storing your items both across and up. Don't worry – we aren't trying to get you to solve an awful riddle, but rather invest in shelves. Be it a mini desk shelf to keep your workspace tidy, floating shelves to house your university course's many, many required reading resources or an on-trend ladder shelving unit to store houseplants and bathroom essentials, shelves offer a simple space-saving storage solution with options to suit any budget and decor style. 

#2 Out of sight, out of mind
Perhaps every university student's favourite storage solution: hide it under the bed. Now, we're not suggesting frantically kicking everything under your bed moments before your parents come to visit, but rather using the space wisely and keeping everything organised and ready for when you need it. 
To help keep your space organised and your items protected, you may want to think inside the box. Invest in a couple of storage boxes to keep your under-bed space organised and prevent any items from going missing or being caped in a layer of dust. If you're feeling extra organised, you may even want to add organisers or labels so you know exactly what you're reaching for every time.
#3 It's all an illusion 
Mirrors are a great way to make smaller spaces appear larger. Tie this in with storage and you have the perfect space-saving solution for any tiny university dorm room. Storage mirrors come in all shapes and sizes, so whether you need a smaller one to house your bathroom essentials or a full-length mirror equipped with enough space to stow away your essentials, you're guaranteed to find something to suit your needs.
#4 Off the hook 
You should avoid storing everything at one level – especially when space is tight. A great space-saving storage alternative to shelves is over-the-door storage. This includes everything from coat racks to shoe storage to multi-purpose racks that can hold anything from plants to cleaning supplies. The possibilities are endless.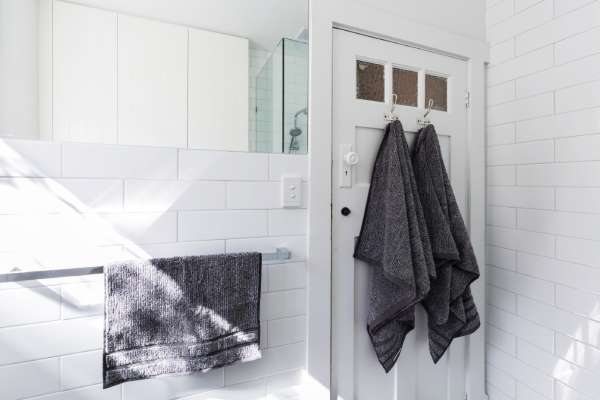 But don't limit all the fun to the door. Other great space-saving hookable items include: 
Clip-on desk lamps

Suction cup bathroom and kitchen storage

Shower door bathroom caddies 
#5 Sitting on an unmissable storage hack
If space in your university accommodation is tight, you'll need to get creative. One highly practical and totally comfy space-saving storage solution is the humble ottoman. From small storage stools and benches to impressive space-saving ottoman beds, there are a variety of ottoman storage products on the market – all it takes is a quick Google search to find the answer to your storage prayers.
#6 Suck it up 
Out-of-season clothing taking up more than its fair share of space in your overcrowded uni room? Time to suck it up and pack it in…vacuum storage bags. Yes, this cheap and cheerful storage solution can help save up to 75% more space when storing soft items such as clothing, bedding and those beloved childhood cuddly toys that you just can't bear to say goodbye to. 
#7 Practical and stylish 
Struggling to close your wardrobe doors? Guilty of overflowing drawers? If your wardrobe resembles somewhat of a clothing shop, you'll want to invest in smarter storage solutions to save space and ensure no garment goes unworn. Whilst stuffing clothing anywhere it will fit seems to be a common trend for university students, it's a recipe for lost clothing. With the help of clever space-saving storage solutions such as hanging cube storage, stackable storage boxes, drawer organisers and multi-layer hangers, you can fit all of your clothes where they belong and see exactly what you have when you need it. 

#8 Luck of the drawer 
Wave goodbye to entering a lucky dip every time you need to grab something out of a drawer. Whether it's your cutlery drawer or your desk drawer, using organisers to keep everything in order is a great way to avoid misplacing things and maximise your space. 
And to help your cause further, try investing in collapsible items to ensure unused items no longer get in the way. Whilst kitchenware such as colanders and food containers are most common (and most likely to be clogging up your drawers), there are a range of space-saving collapsible items on the market, from tables to storage crates to LED lamps. If you seek, you will likely find. 
Remember: tidy space equals a tidy mind – and keeping organised is key when you're at university. If your small space just simply isn't cutting it, why not try expanding your storage with Beyond? We offer a range of top-class storage units at a budget-friendly price. Get a free quote via our online estimator now to kick-start your journey towards better self-storage.