Creating a welcoming environment in our gardens for wildlife such as birds, insects and other animals not only benefits our friendly neighbourhood critters, it can also be a fun and rewarding activity – both the creating and subsequent garden watching! Here are our 8 favourite ways to become garden wildlife's new best friend:
1. Let it grow!

The uncut lawn: one of nature's rarest and richest wildlife habitats. But before committing to jungle life, a small area of overgrown lawn will do! Cultivating this mini wilderness will be a big draw for little mammals like shrews and voles because it offers a banquet of tasty insects and protection from predators.
If you want to entice some larger foragers, a pile of dead wood encourages beetles and grubs which will do just the trick!
Take it one step further and leave a patch of flowering weeds like daisies, buttercups and dandelions – they're great food sources for butterflies.
2. Hungry beasts
The way to any garden mammal's heart is through their stomach.
Badgers and squirrels will eat unsalted nuts and seeds, fruit and root veggies. Hedgehogs are a little pickier, but you can buy special feed from most garden suppliers.
Believe it or not, milk and bread are big no-no's when it comes to feeding wildlife as they cause digestive problems!
3. Wildflower Power
Bees and butterflies alike love wildflowers and they've never been easier to introduce to your garden! You can purchase readymade wildflower packs which you can sow straight into soil, and pre-seeded mats that make germination even easier.
Big or small, any patch of your garden will do, and the best time to sow these little gems is in April.
Just remember to water them every now and then should the British weather pull a blinder and bless us all with an actual summer!
4. Just add water
One of the best things you can do for wildlife in your garden is provide them with a water source.
A pond, even a small one, in a not-too-sunny, not-too-shady spot will be the best and quickest way to diversify your garden ecosystem. It'll make a welcoming home for frogs and other amphibious wildlife (who enjoy shallower water than you think) and beautiful insects like dragonflies. Add plants like water lilies and pondweed to develop your underwater habitat and help prevent it from going stagnant.
And don't think your tap or hose will have to do overtime. Collect rainwater in containers to top up your pond, or leave them as is! Water sources are essential for all wildlife, especially for birds in the winter.
5. Don't lock them out!
Leave gaps in your fences that are small enough to keep the dog in but big enough for animals like hedgehogs and frogs to discover your lovingly-made wildlife habitat – simple!
6. Make it their home
Another surefire way to draw wildlife into your garden is by introducing nesting boxes and houses, whether that be for birds, bats, hedgehogs or insects. You can either put something together yourself as they don't need to be complicated, or buy something purpose build.
Store bought or DIY, even the simplest of shelters become safe homes for many animals that struggle to find natural nesting sites in the winter when conditions are harsh (I'm talking about the British weather again aren't I?).
Hedgehogs especially need a safe place to hibernate through the cold months. Fancy taking on a DIY project? The Wildlife Trusts have a fantastic step-by-step guide of how to build a hedgehog home.
For bird boxes, make sure they're installed in a high, sheltered area away from common predators such as cats, and provide them with fat balls in the spring and seeds in the winter to keep them safe, fat, and happy.
Insect houses provide nesting sites for solitary bees and insects. You can make your own simple bee house using reed or bamboo of varying lengths between 4-10cm tied together, or you can buy a commercially-made bee pad.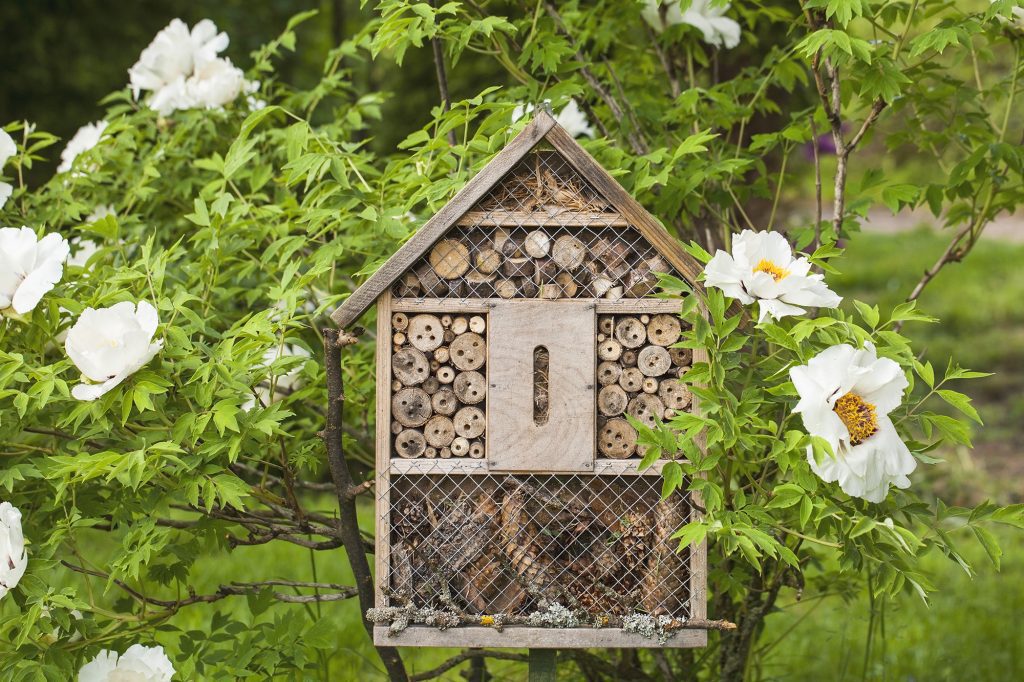 7. The Hedge, Birds Nest Lane, Birdville, BB1 1RD
Not in the mood for DIY? Let nature build a home instead!
Hedges offer great sheltered nesting areas for birds and small animals. There are loads of suitable hedge plants to choose from, but winter honeysuckle and hawthorn not only make great hedges, their perfumed blooms are perfect for bees, too.
8. Bee-utiful flowers!
Most people are now privy to the importance and the plight of our bees, so do your bit by planting some of their favourite flowers.
Bees can see blue and purple more clearly than other colours, so blue and purple varieties of rhododendrons, alliums and chives, geraniums and lavender are great places to start! Not only are they all hardy perennial (they'll bloom every year) plants, they're relatively easy to grow.
Geraniums also form good-sized clumps of flowers in a short space of time, which is sure to get pollination off to a buzzing start.
Top tip: wild windowsills!
You don't need a garden to befriend garden wildlife. All the flowers mentioned above can be grown in containers to adorn a small outside space or reside on windowsills.
What are your tried and tested garden wildlife hacks? Let us know, we'd love to hear from you!
More about the aesthetic? Check out our blog post for smart ways to brighten up your garden.
And if you're keen to bring the jungle indoors, we've got a blog post for that too! Read all about the benefits of plants in the home here.