Take a peek into our art gallery! We are back with our #HomeIsWhereTheArtIs competition, surrounded by some incredible forms of art that are naturally around can help unleash a spark of creativity. Have you had the opportunity to submit your artwork? Well, there is no need to fear as our competition is still underway until the summer! You have more than enough time to submit your art. Whether it is your final masterpiece, your new creation using paints, crayons, chalk or pencils or even if your more adventurous and have upcycled some old material. We want to see it!
Take a look at some of the submissions we have received so far and the far-stretching talent that encompasses all in the Beyond Storage community!
Adriana Potkanska
This relief on canvas by our entrant Adriana Potkanska depicts a surreal tree with hands raising up amongst branches. A relief painting is carved, creating a "raised" two-dimensional surface on a canvas, which is then painted. This unique way of depicting art can show true thought and emotive language behind the work of the artist. Using sculpting as a way of portraying a 3D effect as the art protrudes off the canvas can give a whole new experience to this work.

Llyan McClelland
A truly mesmerising canvas oil painting titled 'Coral Bay'. The artist Llyan McClelland uses shades of pink and blue to create a dreamy landscape. Blue has been used to create a more natural and calming effect on the beholder. The gentle tones of pink add a level of vibrancy. The water mixed blend that engulfs the entire painting can simply exuberate elegance, sophistication and creates an aura of another unique world. With this art, you can truly take your mind off reality and just focus on the art of imagination.

Becky Lord
The upcycling method that has become a big fad for many has helped to unleash some incredible and innovative artists. This upcycled box that Beck found makes for the perfect gift for her son. She tells us: "I found an old box at my local skip and upcycled it into toy & book storage for my little boy, I sanded & painted it, measured and attached the cushioning padding & fabric and finished off with a personalised name sticker! My son loves it!" Upcycling truly has its pros, turning something old, used or broken into a brand new work of art.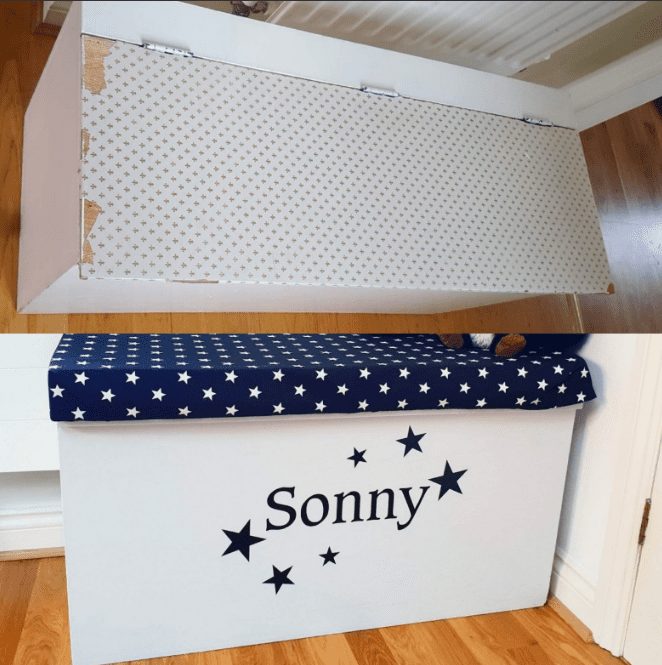 You too can have a part in our competition, so be sure to get involved and simply submit your art to us by completing the form here.