Show our nation's feathered friends some love this Valentine's Day as we kick off National Nest Box Week (NNBW)! We're challenging you to build and install your very own nest boxes to help provide a safe space to protect our nation's bird population. 
In this blog, you'll learn all about different bird species and their nesting requirements, how to build your own birdhouse and top tips for installing your nest boxes.
What is a nest box and why are they important?
​​A nest box (also known as a birdhouse or bird box) is a small structure designed to offer a safe space for birds to nest and breed. Not only are nest boxes a great way to welcome wildlife into your garden, but they also play a crucial role in the conservation of declining bird species by offering secure nesting sites in urban areas where natural sites are typically low. 
Whilst many birds do use birdhouses to nest, some species prefer to stick to natural sites such as trees and bushes. So if you're looking to attract a specific species, it's worth taking the time to research their preferences before you get started.

Tips for building your own nest box
Whilst nest boxes can be purchased, building your own is a great way to add a personal touch, get crafting and involve the family.
Before getting started, consider if there's a specific species you want to attract and use the information found on the National Nest Box Week website to inform the size, design and location of your birdhouse. 
The two most commonly used nest boxes are:
What you'll need for your birdhouse
Whilst the processes you follow will vary slightly depending on the type of nest box you choose to build, the recommended materials remain the same:
Wood or woodcrete for the structure (which offers great insulation)

A water-based preservative to protect your nest box

A hinged or removable nest box lid (which gives you access when you need to replace nesting material)

Tips for installing your nest box
To get the best results, try following these steps when installing your nest box.
#1 Location
If you're installing multiple nest boxes, be sure to leave enough room between each site and surrounding bird feeders – noisy neighbours will argue!

Shelter the opening of your nest box to protect its new occupants from the weather and predators

Tree trunks are the ideal location, but if you don't have any, the side of a shed or wall will work just as well!
#2 Timing
If you're looking to attract smaller bird species, aim to get your nest box installed in early spring before the new breeding season begins

The UK can get extremely cold in the autumn/winter months, so if you have a birdhouse ready, get it installed ASAP – it may very well be used as a cosy roosting haven in colder periods
#3 Maintenance 
It's good practice to check over your nest boxes before a new breeding season begins so you can repair or replace any damaged ones

Remove old nests from boxes (typically between September and February)

If you find that woodpeckers or other predators have tried to enter your nest boxes, it's worth considering installing a metal plate to guard the entrance (you can get these from most garden centres)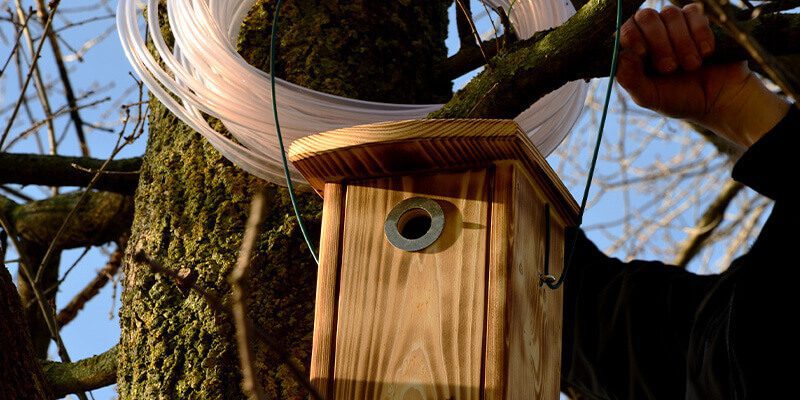 For more tips on welcoming new wildlife to your outdoor spaces, check out our blog post here. And be sure to make the most of our outdoor sites & soak up the beauty of the great outdoors whilst keeping an eye out for our feathered friends.