Hands up – who feels like this January is going on forever? We need a little more Peanut-centric entertainment in our lives. This time, she's braving the cold and journeying down the side of a snowy mountain. (You know, all those snowy mountains we have in the midlands.)
Frosty Friends Maze – Full Colour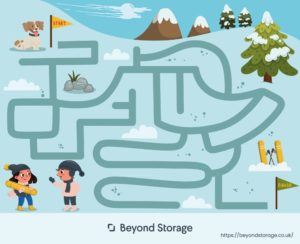 Peanut's latest adventure is the perfect way for active minds to kill time. Help our favourite fluffy friend make her way down the mountainside to her home at Beyond Storage.
Frosty Friends Maze – Printable Black and White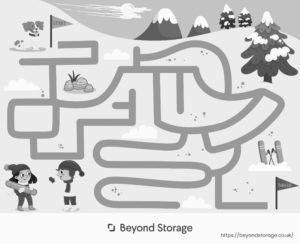 The same maze, but this time, you can print it off without using a gallon of printing ink! Crack out your best biro and track your way to victory down Peanut's intrepid path.
Find yourself partial to Peanut and her playful pals? Sign up to our mailing list on the right-hand side to receive the latest activities and games straight to your inbox – all completely free!
You'll also receive the latest news and updates from Beyond Storage – only once a month, we promise – which is packed full of helpful articles on everything from storage and organising tips to fun days out for the whole family around our Beyond Storage sites. Waiting for a Beyond site to open near you? You'll be the first to hear about it!