Let's face it. The last couple of years have been tough. But if there's one bright light amongst it all, it's this: Working from home. No more wasting time in traffic at the crack of dawn or being crushed in with a dozen strangers on a train. No more awkward small talk with the office gossip. No more worrying about how many cups of tea is too many cups of tea. It's a quick trip from your bed to your desk, and you're ready to get stuck in with unlimited cuppas and no time-wasting chat. 
Working from home has a whole heap of benefits. Even if you do pop into the office still for some face-to-face time with your co-workers, it's likely you'll be working with a hybrid WFH-office. The Office for National Statistics (fun bunch) reported that 'of working adults currently homeworking, 85% wanted to use a "hybrid" approach of both home and office working in future.'  So, it looks like working from home isn't going anywhere anytime soon.
But working from home can get stressful fast. Especially when mess builds up and starts to take over your workspace. Cluttered spaces can have negative effects on our stress and anxiety levels, as well as our ability to focus, our eating choices, and even our sleep. When so much of our time is spent at our home desks, it's high time we start treating those spaces with the care they deserve. It's time to tidy!
We've got 6 space-saving tips for working from home to help keep your desk and mind tidy.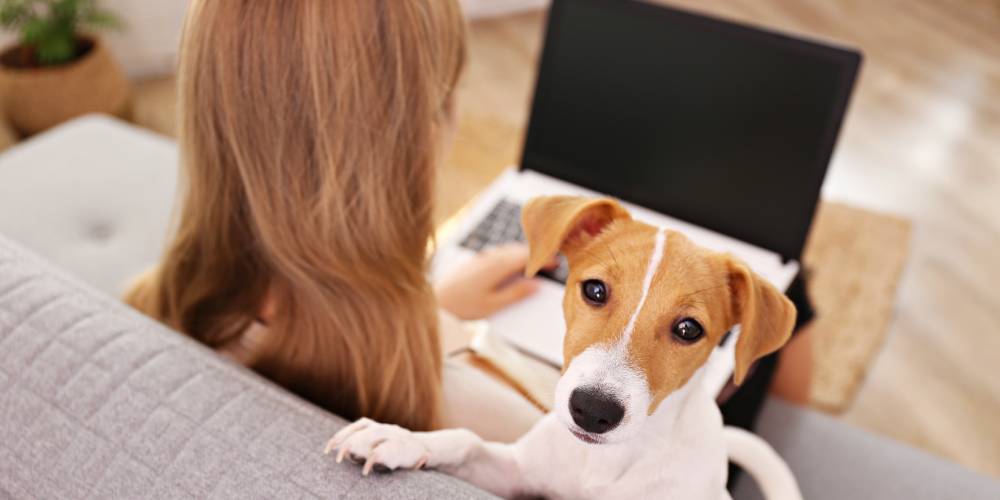 1. Picture your ideal workspace
Before you get to changing up your desk, it's important to think about your perfect workspace. Is it Marie Kondo approved minimalist? Or a bit of maximalist chic? A great thing about working from home is that you get to decide what your space looks like – no bosses or managers to tell you that hot pink isn't brand appropriate. Your house, your rules! Try creating a vision board of aesthetics you're a fan of on sites like Pinterest to help bring your dream desk to life. 
2. Declutter without mercy
Take stock of everything you've got on your desk. We're going to give it up to the mother of tidy homes herself, Marie Kondo, and ask: does it spark joy? Odds are, it's just taking up space and making your desk cluttered. Get rid of all the things you're not using all the time. Spare notebooks? Put them away somewhere else. Enough pens, pencils and highlighters to rival your local WHSmiths? Keep one of each, and chuck the rest in a draw. Post-its littering every available surface? Upgrade to the digital age and put those notes in an app. All you should have on your desk is the items you're using every single day. 
3. Go on, spark a little joy
While you want your desk to be tidy, that doesn't mean it has to be a barren wasteland of nothingness. If you want to have a little fun with your workspace, go ahead! Now that you've scrapped all the junk, you can get things that do spark joy. This'll look a little different from person to person. You could get a plant to spruce up your desk. Or an outrageous lamp that makes you smile. Or maybe a tastefully framed print is a little more your style. Whatever it is, if it brightens your desk, it's not a waste of space. 
Make sure not to go overboard on the joy, though. Too much of a good thing, and all that. When a little nicknack provides a boost of much-needed serotonin, it can be easy to go overboard. Keep your joy-sparking items to a healthy number so they don't overwhelm your space.

4. Can't chuck it? We'll take it 
Some things don't quite spark joy, but they're too important to throw away. It's a tricky conundrum when you're working from home and there's limited space. Especially if you're in a flat or share your space with housemates. So, what's to be done when the mess is rising, you still need access to it, but don't want it hanging around your home? Enter, the storage professionals. Overstuffed filing cabinets or desks covered in paper are a thing to the past when they're safely stored in our premium containers. From temperature control to 24/7 security, your must-keeps will be both safe with our fingerprint scanner site access and easily accessible any day of the week with our long opening times. Contact us today and free your space from fuss.
5. Put it away at the end of the day
Sometimes the issue isn't your desk while you're sitting at it… It's your desk when you're not sitting at it. When space is already pretty tight around your home, having a desk with all your work on it can take away precious room and create a stressful environment. Fear not, though. There are plenty of clever ways to help you save space. Our favourite is the folding desk – there one minute, gone the next! Cosmopolitan scouted out some of the best folding desks that look great and save space all in one.
6. Out of office, out of home
Your home doesn't have to be your office too. If you enjoy the separation of work and home that an office provides, but don't exactly love the office environment, then we're got the solution for you! Beyond Offices are purpose-built workspaces, created using our signature forest-green storage containers, are perfect for solo working in peace and quiet or for a sleek and functional space to hold your next meeting. With free wifi, heating and aircon, sleek office furniture, plus unlimited tea and coffee, it's the perfect place to get cracking. All you need to bring is yourself and your laptop. Sorted! Enquire about our Beyond Offices here.